Take a vineyard tour of England and Wales
With so many fantastic tourist trails across Britain, visiting vineyards might not have crossed your mind. This is Britain, after all.
But, as you'll soon find out, there are many wonderful vineyards dotted across the country and we've worked with Elisabeth and Ian from Wine Cellar Door, who specialise in promoting English and Welsh wine, and who have written a brilliant guest post for us featuring their top British vineyards that offer a great visitor experience to boot.
****
There are all sorts of ways to enjoy the countryside, but here's one you may not have thought of – visiting vineyards.
By their very nature they are generally in rural spots, on sheltered south-facing slopes, and often in stunningly beautiful locations.
Surprisingly, there are more than 200 visitor-friendly vineyards in England and Wales and while some of them are little more than a field with a few neat rows of vines, many now offer excellent visitor experiences, combined of course with delicious wines.
Hit the trails
At many of our favourite vineyards, it's possible to follow a self-guided vineyard trail or to explore the surrounding countryside on public footpaths, working up a thirst for some wine with zero food miles, made from grapes grown at the very spot where you're standing.
Here are a few of them:
Denbies near Dorking is almost certainly England's most visited vineyard, due to its sheer size and the length of time it has been established.
Grapes were first planted there in 1986, so they've had plenty of time to get things right and it's a great place to start your English wine exploration.
Seven miles of public footpaths criss-cross the estate and continue through chalk downlands in the care of the National Trust.
If you prefer, there's also a Land Rover train tour you can book to take you around the estate. Other facilities include a very good restaurant, café and even a bed and breakfast. There's also a brewery and a farm shop on the same site.
Sharpham is just south of Totnes in Devon and somewhere you may well have passed close by on your way to Dartmouth, or the beaches of Slapton or Salcombe.
It's in the South Devon AONB and the vines grow in a bend in the river, giving it a beautifully serene setting. There is a small charge for the walking tours which include different levels of tasting.
The trails through the vineyard take approximately 30 - 45 mins to walk and involve some uneven ground and inclines. The cellar door shop also sells Sharpham's own cheese and there is an open-air café in the warmer months.
Hush Heath Estate and Winery
Hush Heath is in the Garden of England, Kent, a county which is growing increasing amounts of
grapes alongside its more traditional hops and fruit.
A beautiful oast house lends character to a bucolic scene of vines and orchards and a wood thickly carpeted with bluebells in spring. You can stroll around at no charge and taste a couple of wines afterwards, or book onto a tour which includes more wines to taste and / or a tour of the winery, too.
Conveniently, the estate also owns The Goudhurst Inn a few miles away, with great food and four boutique hotel rooms if you want to make your Kent exploration a longer one.
Nutbourne vineyard is in the heart of Sussex's wine-growing area, so much so that its land almost touches that of two other vineyards.
There's a nicely signed trail around the vines and you can enjoy a tasting in the charming converted windmill. There are no other facilities here (we are told the local pub is good) but you can bring a picnic and take your time unwinding among the vines or beside the attractive lake; keep an eye out for the family of alpacas.
Nutbourne's wines are served in some fine London restaurants and are excellent value, so take the opportunity to stock up at cellar door prices.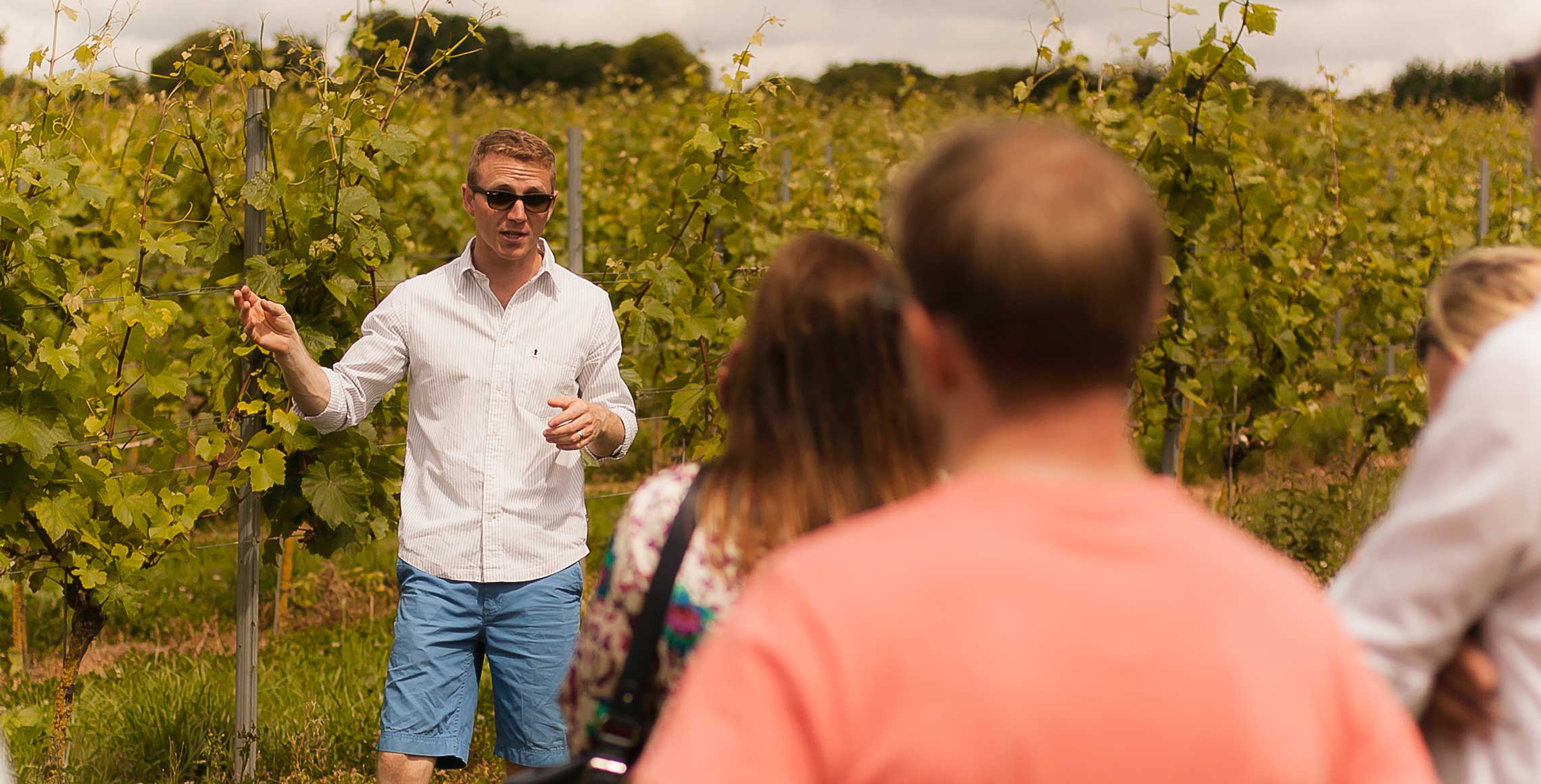 Langham Estate in Dorset offers a self-guided tour for a modest charge, including a tasting of three wines. This is available whenever the vineyard shop is open, although you should allow two hours before closing to give yourself enough time.
The Tasting Room and Vineyard Café, housed in an old milking parlour dating from the 19th century, are full of character and charm. With views of the vineyard and winery, it's the perfect place to taste the wines, have a lunch of local produce or enjoy a lazy afternoon cream tea.
****
With so many places in so much beautiful countryside, it really is difficult to restrict our recommendations to just these few, but we hope they've given you some idea of how you could be enjoying your next rural rambles. Always keep an eye out for signs to your local vineyard and take a look at WineCellarDoor.co.uk to find many, many more visitor-friendly vineyards all over England and Wales.
Megan Allen
Megan is the owner of Rural Roots Media, specialising in rural tourism, where her passion for travel, heritage and a great visitor experience inspired her to start 'The Rural Travel Guide'.