Why it's more important than ever to take learning outdoors
Growing up in the wilds of Cumbria, Vicki Brightwood was taught survival skills from a young age and is now determined to pass them onto the nation.
As a former Royal Air Force officer and trainer in outdoor skills, she's no stranger to a challenge - whether it's starting a fire using World War Two methods or creating an art installation from materials gathered in the forest.
In 2009 Vicki started her own intelligent development business, Brightwood Training, specialising in Forest Schools, team building and outdoor learning and it has grown steadily since, offering courses that range from basic survival to food masterclasses.
Along the way she's introduced Forest Schools to a range of learning institutions across Wiltshire, where she's based, and taught other adults how to deliver the sessions. The programme takes learning outdoors, helping children to develop a range of skills in a forest environment.
Vicki said: "All of my children have been through Forest Schools with me and the schools I started are still up and running.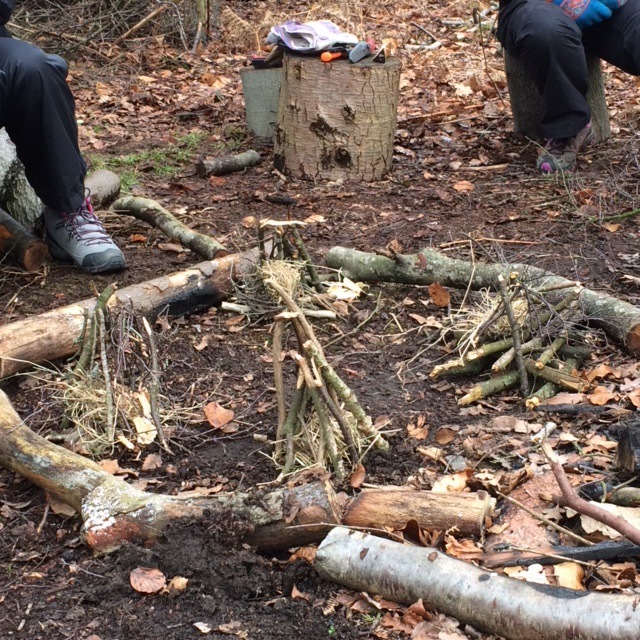 "I've worked with The National Trust to set up Forest Schools at a number of their properties and locations have included woodland at Ashdown House, to a secret World War Two base where there are lots of underground bunkers to explore."
Activities range from clay modelling to toasting marshmallows and Vicki says the skills learned outside the classroom as just as vital as those picked up within it.
She added: "Parents and carers come along once a week with their children and we spend two hours in the woods where we make fires and do crafts.
"We also work with special schools who assist the National Trust rangers with their work. It helps with a number of conditions such as autism as it teaches young people to communicate and express themselves."
But it's not just children who benefit from Vicki's extensive knowledge. She also runs courses for adults, ranging from team building to specialised skill sessions.
"My fire and food sessions are open to everyone," she explained.
"Participants range from people who are going camping and want to practice building fires beforehand to former Scouts who want to refresh their skills."
As part of her courses, Vicki teaches participants how to cook bread in a Dutch Oven and make soup over an open fire, highlighting fire safety as she goes.
She said: "There has been a rise in people who are interested in outdoor skills. More campsites allow fires now and hobbies such as wild swimming have taken off, so it's good to have safety tips beforehand.
"Growing up in Cumbria, every Easter we'd go out to the woods and make a fire and everyone would come together. These days there's more legislation so it's a skill that has been lost."
Vicki suggests that if you want to build a fire in woodland, you check with the landowner beforehand and explain what you are doing.
Each year she collaborates with Oxford Artweeks and takes groups out into the woods to create artwork from natural materials.
This year's sessions will take place from 5 - 28 May. For more information or to book one of Vicki's courses visit http://www.brightwoodtraining.com
****
Do you have an inspirational story to tell from the British countryside? Get in touch.
Megan Allen
Megan is the owner of Rural Roots Media, specialising in rural tourism, where her passion for travel, heritage and a great visitor experience inspired her to start 'The Rural Travel Guide'.