From dairy farm to Mongolian luxury in Dorset
Diversification is a hot topic in land ownership at the moment. With Brexit looming many are wondering what they can do to make their land sustainable and profitable.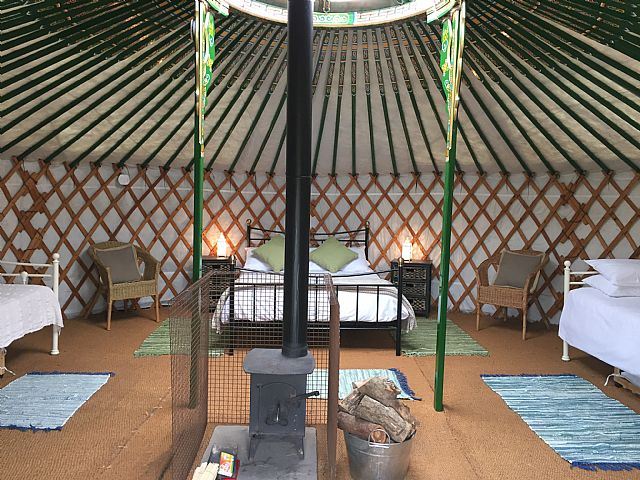 A former dairy farmer in Dorset has offered advice for those who might be thinking about opening a glampsite and supporting rural tourism.
Mark and Caryl Ralph who own Caalm Camp, a Mongolian yurt glamping site on their farm south of Shaftsbury, got out of dairy farming in the year 2000.
Mark said: "We had to find something else to do. We had a stable near the house which we converted into a holiday cottage in 2007 and it showed us we live in a great area.
"We wanted to diversify a bit more but didn't want to go down the caravan route so we bought six yurts about nine years ago."
The site has stunning views across the Blackmore Vale, to Duncliffe Woods, Bulbarrow and Hambledon Hill and there is a plethora of attractions within 30 miles, including the Jurassic Coast, which makes the location ideal for tourists who are looking for alternative accommodation.
The yurts are all equipped with comfortable wrought iron beds, white cotton linen, fur blankets, cushions, electric lighting and sockets and the family has converted their old hay barn into private shower blocks and a communal area, including a kitchen.
Each yurt has its own wood-burning stove, which makes the site cosy and accessible all year round and the site's wood-fired pizza oven can be stoked up on request for great nights in.
Mark said: "Attention to detail is vital. When we were dairy farmers we were used to high hygiene standards, so we are have kept that up.
The site is open all year round
"Glamping takes your full concentration. We couldn't have run this site alongside farming as well. Like all things, you have to work hard at it."
Offering something different has been the driving force behind the site from the start - yurts offer a unique glamping experience in themselves as they're warm and luxurious but also give people the feeling of being in the great outdoors. It is also not common for glampsites to be open all year round and Caalm Camp offers relaxing holidays throughout the year.
Mark said: "The highlight for me is when I'm walking out in the evening and I can smell the smoke from the fires-I still enjoy it.
"You've got to enjoy it. It sounds easy but it keeps us busy. But we have lovely people staying with us all the time and it's worth it."

Caalm Camp is running a mid-week offer throughout the Winter of £50 per night for four nights. For more information take a look at their website.
Megan Allen
Megan is the owner of Rural Roots Media, specialising in rural tourism, where her passion for travel, heritage and a great visitor experience inspired her to start 'The Rural Travel Guide'.