Is this Scotland's most haunted castle?
It was a wild and windy night at Dalhousie Castle, near Edinburgh... Ok, no it wasn't but it was, in fact, a beautiful Midsummer's evening.
Following a delicious meal in The Dungeon Restaurant we were winding down the evening in the Library Bar with a night cap and a game of Cluedo when our evening turned into a real-life mystery tour.
The Grey Lady, as spotted on camera
A head poked through the library door and invited us to join a group of Americans on an impromptu midnight tour of the 850-year-old castle, exploring corridors, nooks and crannies not usually open to, or often over-looked by guests, and learning all about the ghouls that walk the halls.
Among them the 16-year-old, heart-broken Lady Catherine, the 'Grey Lady', who is often spotted in one of the towers and wandering the downstairs corridors looking for her lost love; And Sir Alexander Ramsay of Clan Ramsay, who was starved to death at Hermitage Castle in 1342 by a jealous friend and remained there, forgotten, for four-and-a-half-centuries.
Sir Alexander, it turned out, haunted the room next to ours.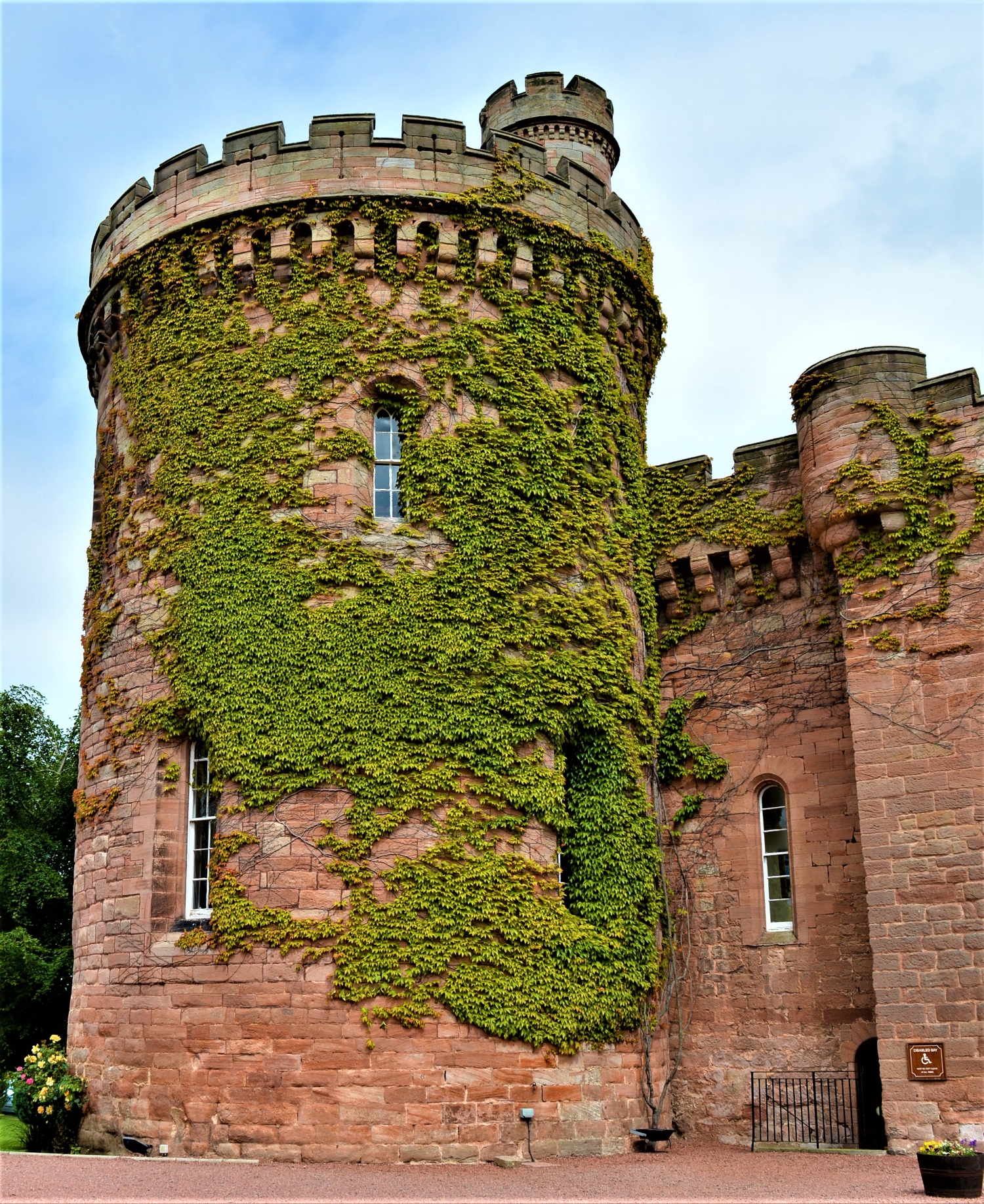 The Drum Tower at Dalhousie Castle dates back to the 15th Century
The castle has been in the Ramsay family throughout its history, which is the longest time one family has possessed a castle in Scotland. It's thought the Ramsays moved to Scotland from Ramsay in Huntingdonshire, England, in about 1140, taking the name with them.
Its full history is, as expected of a fortress of its age, really exciting-one of war, rebellion and treason (Oliver Cromwell used it as his base when he invaded Scotland in 1650) but it has now settled into a quieter life as a hotel and spa, which attracts a range of guests; From couples enjoying a quiet game of Cluedo to ghost hunters on the 'most haunted' circuit.
Although ghosts have been seen/heard in The Dungeon Restaurant (there's YouTube footage), the rooms used for fine dining are not actually the old castle dungeons themselves. The real dungeons are now used as a cellar which, as pointed out on the tour, can still only be entered/exited by rope.
We declined the invitation to explore them.
Megan Allen
Megan is the owner of Rural Roots Media, specialising in rural tourism, where her passion for travel, heritage and a great visitor experience inspired her to start 'The Rural Travel Guide'.