Rutland for foodies
When visiting a county where the motto is 'Multum in Parvo'-much in little-it sounds like a challenge to find out why.
Once an independent county - then part of Leicestershire - and now a county in its own right again, Rutland is often referred to as the Cotswolds of the North. Rolling hills, stunning farmland, picturesque villages and a great big pond (Rutland Water) are among the county's many assets.
As are its abundant eateries that all offer something different while supporting local produce and making the county the ideal location for a foodie holiday - lots on offer, reasonable prices and plenty of places to walk it off.
Breakfast
The Potting Shed in Ashwell does a fantastic fry-up using locally sourced products. The service is also so wonderful that it's bound to set you up for the day and put a spring in your step. Breakfasts are served all day, so even if you're having more of a brunch, you'll not miss out.
Conveniently placed next to a lovely garden centre and small complex of local shops, you can happily walk off your meal by browsing some of Rutland's small businesses.
Breakfast at The Grainstore Brewery
Also recommended: The Grainstore Brewery and The Lean Pantry, both in Oakham
Elevenses
This is still a very important meal and should be taken seriously. In Spring/Summer, the tea rooms at Barnsdale Gardens near Exton are both beautiful and tranquil-especially if it's a nice day and you can sit outside in their cafe garden (which is number 38 on their list)...
Their carrot cake is amazing, the gardens are stunning and you may even get a visit from a friendly Robin, who is also partial to a slice.
If you're visiting in Autumn, Winter then Fika in Oakham is without doubt the place to be. Their contemporary Scandi cafe and gift shop is small, warm and cosy and they have a fantastic selection of warm drinks and fresh cakes that will warm you from the inside, out.
Also recommended: The Rutland Cake Company in Ashwell, Kavanagh's Tea Room in Oakham and Scandimania in Uppingham
Lunch
The Grainstore Brewery in Oakham not only makes great real ales, their food is freshly prepared, the portions are huge and the prices are incredibly reasonable, putting a new meaning to the phrase "pub grub". Their food does not disappoint and they even use their beer in some of the recipes, which is a great way of ensuring you get a flavour of what they do.
From 10/50 sausages and mash to local charcuterie sharing platters, there's something for all appetites and tastes.
The build a burger night on Tuesdays is not to be missed...
Also recommended: Fish Tank Sushi , which opened this Summer and offers a refreshing change to the norm in Oakham and Don Paddy's in Uppingham
Afternoon tea
Castle Cottage Cafe in Oakham cannot be beaten for afternoon tea. Or even just a cream tea if you're too full from your last three meals...
Their raspberry scones are absolutely to die for. Not only that, the garden is stunning. Filled with pretty flowers, mirrors and kitschy decor it is everything that an English country garden should be.
Also recommended: Barnsdale Lodge Hotel nr Rutland Water and Kavanagh's Tea Room in Oakham
Dinner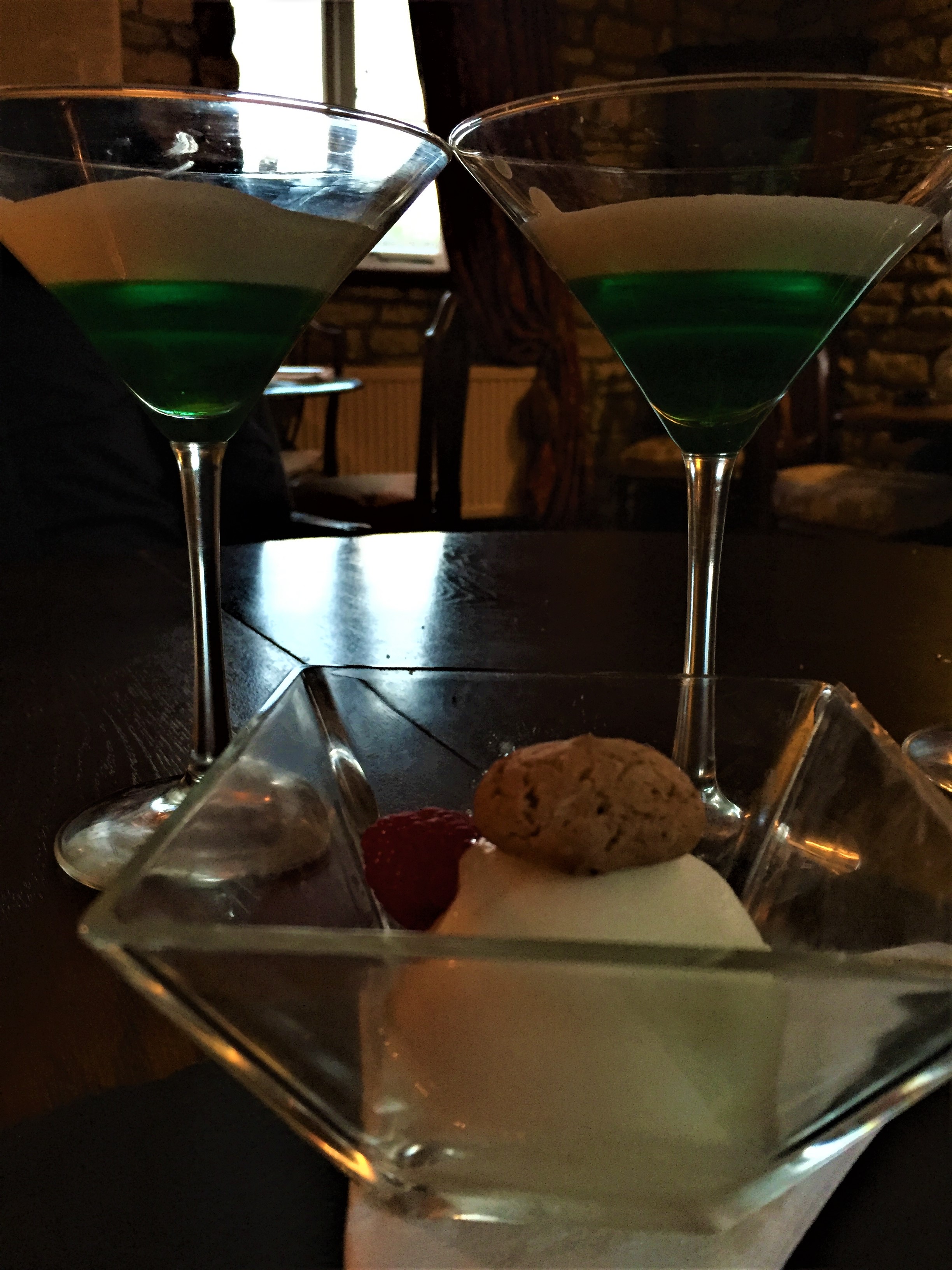 Dessert cocktails at The Fox & Hounds
The Fox and Hounds at Exton is the perfect place to go for a 'special' night out, although The Wheatsheaf in Greetham is also a very strong contender.
If you'd like a village pub that does very good food then go for The Wheatsheaf. If you're looking for more of a restaurant then The Fox and Hounds is a must. There's an extensive wine list, pub classics and seasonal menus which are presented beautifully and the flavours are immense.
If you don't fancy a full pudding, they have a selection of dessert cocktails to choose from.
Also recommended: The Blue Ball in Braunston-in-Rutland and Barnsdale Lodge Hotel
Megan Allen
Megan is the owner of Rural Roots Media, specialising in rural tourism, where her passion for travel, heritage and a great visitor experience inspired her to start 'The Rural Travel Guide'.